November 30, 2008
What a terrific couple of weeks we have had here at Vital Arts! Plectrum V2 is out, and we are so grateful for the responses we are getting back already!
So far we have shipped Plectrum V2 to musicians in England, France, Germany, Sweden, Poland, the Czech Republic, South Africa, India, Singapore, Taiwan, Australia, Canada, and all across the United States, from Delaware to California!
We have also been delighted to learn that Plectrum instruments are featured in a number of high profile movies, including Secret Life of Bees, Crossing Over, and Disney's new DVD release of Tinkerbell, as well as television and cable shows, such as CSI Miami and NOVAscienceNOW!
We are eager to continue spreading the word, and hearing what people are creating with Plectrum V2.
Meanwhile, Geoff completed another international tour for Kurzweil, demonstrating the PC3 keyboard, whose orchestral sounds he designed. His tour took him through Krakow, Prague, Budapest, Istanbul, Kiev, Athens, and Amsterdam.
For a sense of what Geoff does, check out this video from the South American tour he made in August.
October 27, 2008
Vital Arts announces Plectrum V2, running on Kontakt, available on November 10, 2008
Vital Arts is pleased to announce Plectrum V2, the new cross-platform version of its critically acclaimed virtual instrument collection. Plectrum V2 is powered by Native Instruments' Kontakt Player, a high performance audio engine regarded as one of the most advanced in the music industry. The library comes standard with the latest Kontakt 2 Player, so no other software is needed to enjoy the instruments.

The extraordinary and unique acoustic instrument creations of Geoffrey Gee will be available to Mac OS and Muse Receptor users for the first time, and existing PC users can purchase a crossgrade and experience the library as never before. In addition to the 185 instruments from the original PC-only product, there are 45 new combination instruments called "Multis." Kontakt 2 Player also allows users to create more custom multis simply by loading multiple instruments and setting a few parameters.
"Partnering with Native Instruments gives us a solid and mature cross-platform audio engine, and assures top quality support for the future," said Geoffrey Gee, creator of Plectrum. "The Kontakt engine handles the 24-bit 96k streaming requirements of Plectrum beautifully."
Gee created his instruments by plucking, strumming, scraping, and tapping a variety of acoustic instruments and found materials. The recordings and ambience are purely acoustic, and the thousands of samples have been mapped to the keyboard and voiced in a way that allows the player to play naturally and expressively. The resulting instruments are strikingly beautiful and rich with acoustic resonance.
"Plectrum is brilliant in concept and execution, and I recommend it to anyone who needs to be reminded of the truly wonderful things you can do with samplers," writes Marty Cutler in Electronic Musician. "All the presets have been optimized to sound wonderful," writes Craig Anderton in Keyboard. Legendary keyboardist and founding member of the Pat Metheny Group Lyle Mays called Plectrum "one of the most exciting products I heard in quite some time... A perfect combination of acoustic nuance and modern technology."
The 12 GB library which includes the Kontakt 2 Player will be available starting on November 10, 2008 for $299. Existing registered Plectrum users will be offered a $59 crossgrade price for a limited time. System requirements for Mac are: Mac OS 10.4 or later, G4 1.4 GHz or faster, 512 MB RAM or more. System requirements for PC are: Windows XP, Pentium IV or Athlon 1.4 GHz or faster, 512MB RAM or more.
July 25 , 2008
Kimerer performed last night at the Fort Salem Theater Cabaret for a warm and enthusiastic gathering. With Geoffrey accompanying on piano, she wove her philosophy of love through lively interpretations of Broadway show tunes. She also performed three of her original songs for the first time on stage. Audience members raved that they had never seen anything like it!
Meanwhile, Kimerer's book, What a Body Knows, is in production! In June, Kimerer landed a publishing contract with an up and coming company in the UK--O Books. Her book will be available in May 2009. Ten months to go!
July 23, 2008
Tascam announced this week that they are ceasing development of Gigastudio products, which includes the GVI engine on which Plectrum runs.  As a result, we will not be able to release Mac Plectrum as planned.
Needless to say, we are deeply disappointed by this news. The timing is especially difficult for us, because Mac Plectrum was functional and nearly complete but not quite release-ready. We're sorry we continued to pass along to you Tascam's promises of completion. 
Nevertheless, we are determined to make Plectrum available to Mac users. We pledge to release this collection of unique instruments on a Mac friendly platform as soon as possible! Thanks to your interest and support, we know that Plectrum has an eager community of players waiting.
Also, please note that Plectrum is and will remain available for Windows and Vista, regardless of Tascam's future plans. The existing PC version of Plectrum is complete and self-contained, and is not negatively affected by this announcement. 
April 25, 2008
Geoff gave a stunning performance on piano and on Plectrum at the Argyle Presbyterian Church. His rendition of "Ohio" was the best I have ever heard, and I have heard many versions! During the concert, Geoff moved back and forth between keyboard and piano, explaining how he made Plectrum and demonstrating its magic.
Our friend, author Jon Katz, came to the concert and posted a description and pictures (six of them) on his website. You can find them under the title "Portrait of an Artist," 1 through 6. --Kimerer
February 17 , 2008 Plectrum goes to NAMM
Over four days from January 17-20, some 10,000 music industry professionals converged in Anaheim, California for the annual National Association of Music Merchants trade show.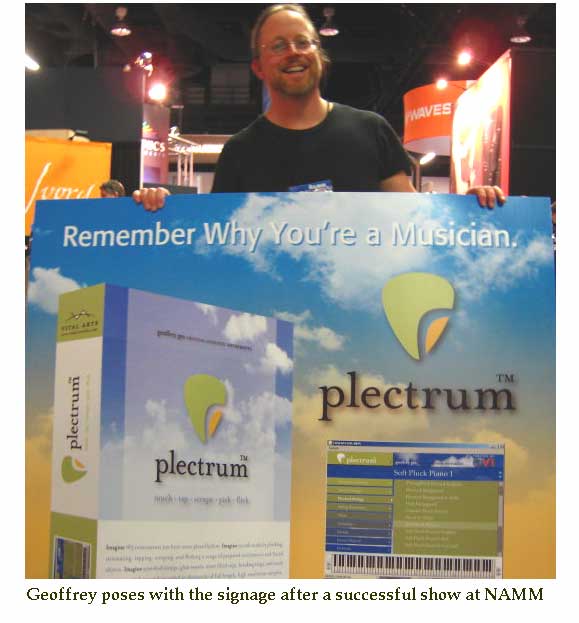 Vital Arts was there, and Plectrum was auditioned and praised by hundreds of top players, composers, sound designers and journalists. It was great to hear from Plectrum users who love the sounds, and to share our unique approach with those players who hadn't yet heard it. A highlight of the show was a visit from Stevie Wonder, who stepped behind the keyboard and played Plectrum himself. After trying a couple of strummed struck piano sounds, he settled on "Soft Pluck Steel Harmonics" for an extended jam-a spontaneous mini-concert by one of the greatest musicians alive today. His friend, the composer Rob Arbitter, is an avid Plectrum user himself, and he made sure to bring Stevie to Vital Arts for an audition. Thank you Rob, and thank you Stevie!

We're also proud to share news that two of Geoffrey's sound design clients won Editors' Choice Awards from Electronic Musician Magazine. In the Software Sample Player category, Sonivox Muse won, and for Instrument Controller, Kurzweil's SP2X won the award.
Speaking of Electronic Musician Magazine, Marty Cutler's review of Plectrum appeared in the NAMM issue of the magazine. His conclusion? "Plectrum is brilliant in concept and execution, and I recommend it to anyone who needs to be reminded of the wonderful things you can do with samplers." Read the full review here.
Looking forward, Geoffrey will be appearing at Musikmesse in Frankfurt Germany March 12-15, showing the Kurzweil PC3 keyboard workstation as well as the Plectrum VI.
We are also eagerly waiting for Tascam to complete the Mac version of GVI, at which time Plectrum will released for Mac users. New target is April, we will announce a date as soon as we have it.
January 2, 2008
Announcing a new BLOG!
Kimerer has begun a weekly blog to host conversations about her forthcoming book, What a Body Knows. Check it out!
www.whatabodyknows.blogspot.com